Weary O'Leary Penthouse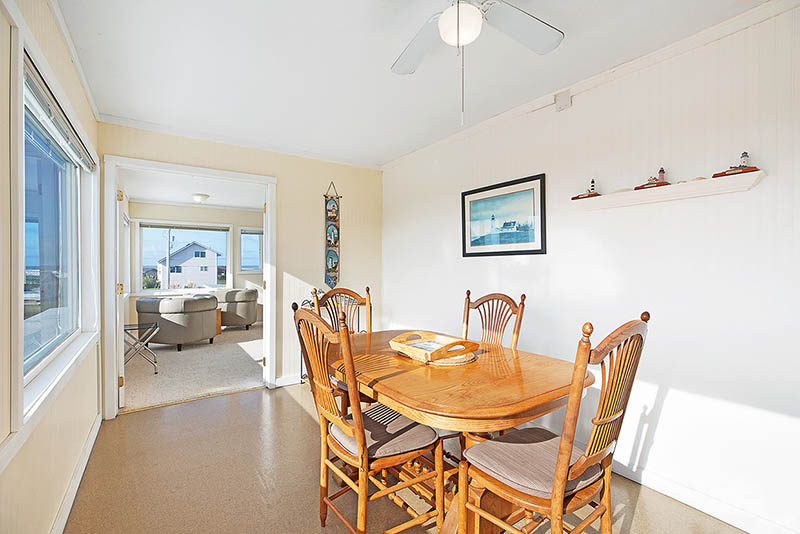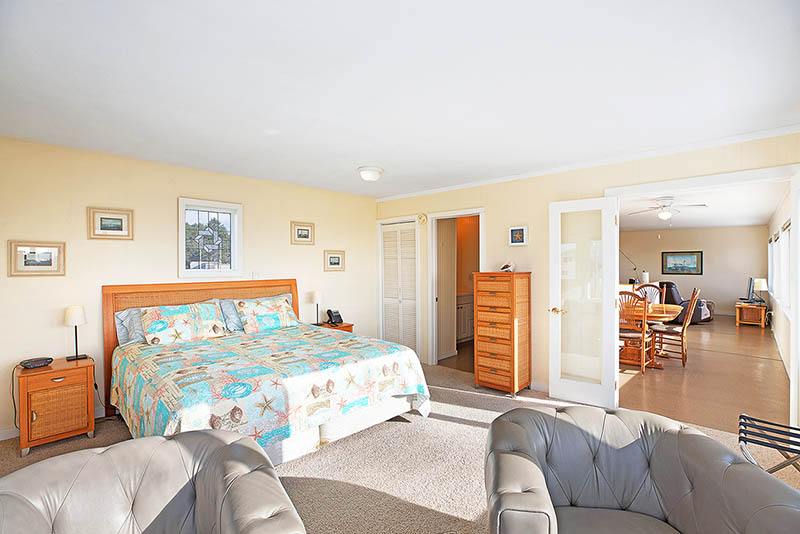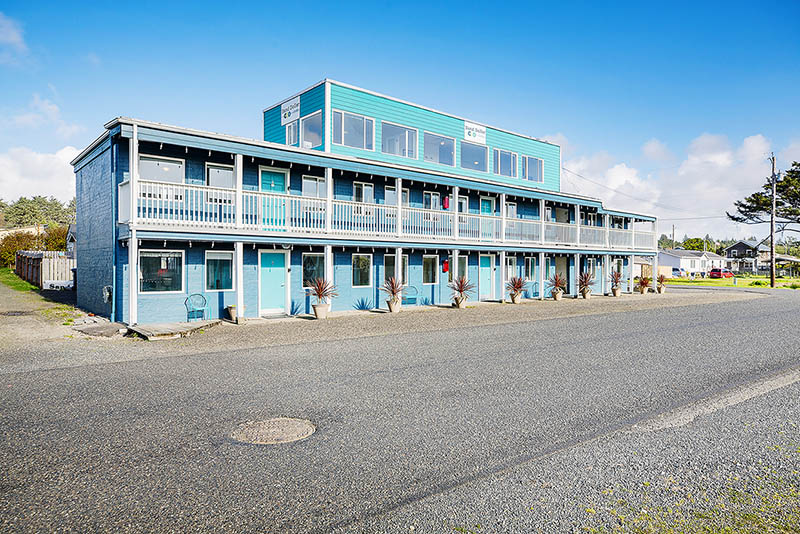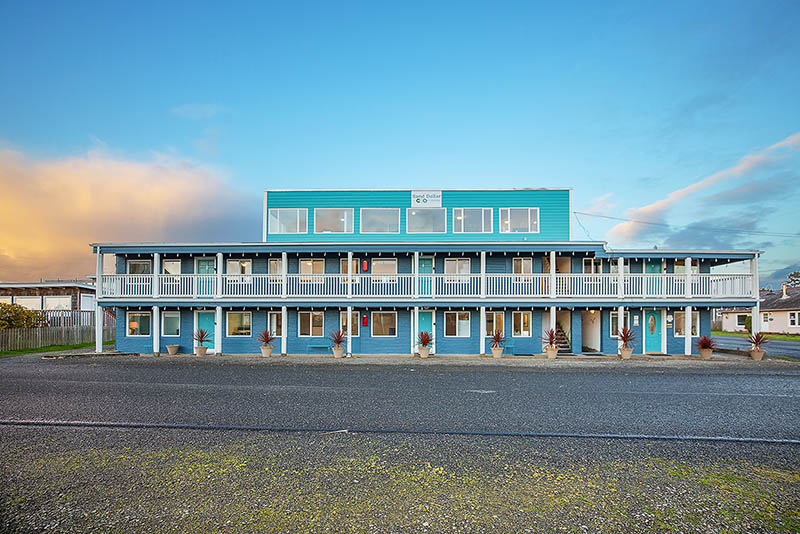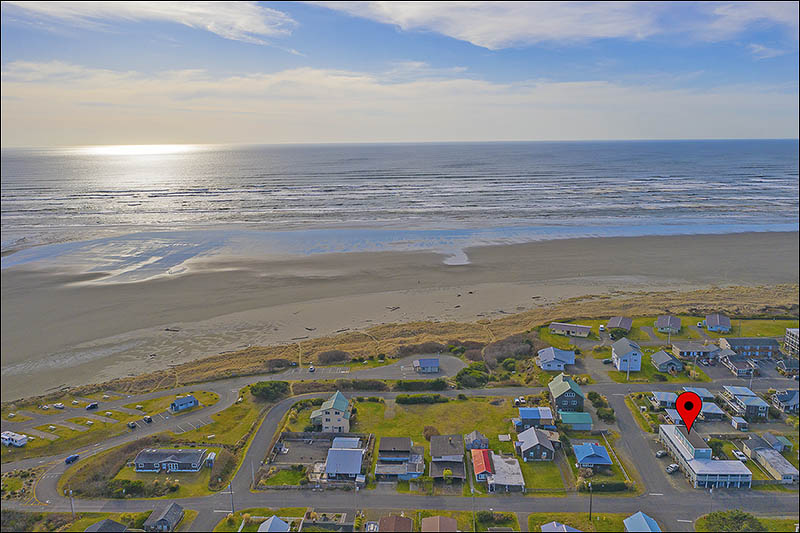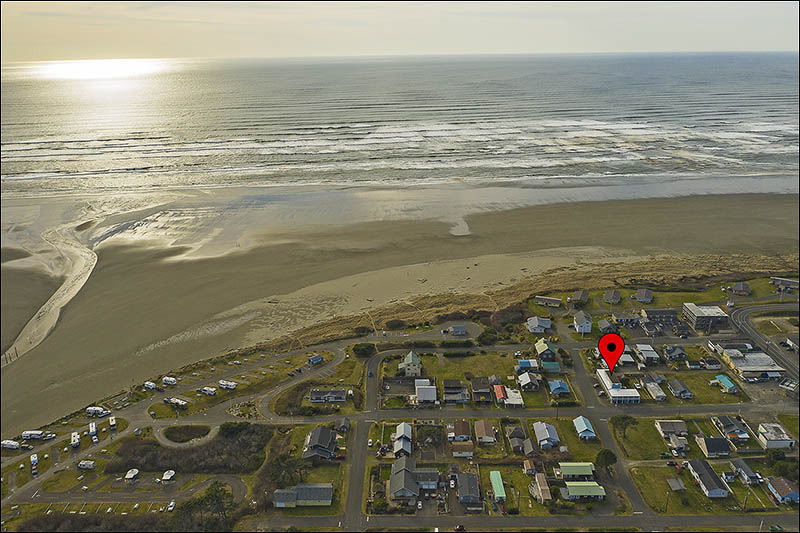 Our penthouse is named after William O'Leary, an Irishman who was one of the earliest European settlers in the North Beaches area.
He frequently hauled supplies from Astoria, Oregon up the coast by canoe and on foot too. He was often hear to complain that he was tired and who could blame him with a route like that?
Today, the penthouse is a respite for the tired and those seeking an ultra-comfortable place to relax and enjoy the view. It's got everything needed for the weary traveler.
Weary O'Leary Penthouse
The penthouse is a 700 square foot spot for you to kick back and relax. It is on the third floor (up 2 flights of stairs), but totally worth it due to the glistening views of the Pacific.
This one bedroom condo faces south allowing for tons of natural light to come in through the large picturesque glass windows.
With one king-sized bed and a twin-sized trundle in the bedroom comfortably provides for up to four people in the bedroom. In the living room, a roomy sectional doubles as a sleeper sofa for two more, so you're sure to have enough space. You can bring up to six people to enjoy this fabulous penthouse.
The bathroom is full sized, so no need to worry about being too much like O'Leary who probably at times, didn't have the ability to shower!
More about the Weary O'Leary Penthouse
If you're looking to whip up a meal or put together a picnic for the beach, then you'll surely make use of the kitchen. There is a dining table area too so that you can enjoy a meal together.
The coffee maker might have revived O'Leary for his next trip South, make use of it to revive yourself before exploring the beach.
Kickback in the living room and watch your favorite movie on the flat screen television. Sink into the cozy recliner that O'Leary himself would have cozied up in after a long day of hauling, if he could've.
Bring your pup along too, we'll never know if O'Leary had one accompanying him but we sure hope he didn't make those journeys alone. We welcome your furry friends because we know they'll love the ocean front just as much as you will. Dogs are welcome with our standard per dog, per night fee.
About Sand Dollar Condos
Sand Dollar Condos is a building made up of 8 condos with 1 and 2 bedrooms available. They are located in the Pacific Beach area where the ocean is at your feet and the sun is constantly shining down. Soak it up.
We stock each condo with the freshest linens and towels to make your stay as comfortable as possible.
The kitchens have basic pots & pans as well as dinner & flat ware available for your use, whether that be cooking up a good meal or packing a picnic to go for the beach.
Click here to see our ocean facing web cam (stunning!)
About Pacific Beach
Booking one of our properties in Pacific Beach? In this little community centrally located in Grays Harbor, you'll find an array of seaside activities for you and your friends/family to venture into.
Fly a kite in a contest, build a sand sculpture or go sea kayaking. There are numerous nearby state parks that are perfect for hiking, surfing or just an afternoon stroll along the beach.
During the Spring you can dig for clams, during the Summer check out the crabbing! If it's warm enough, take a surfing lesson or go fishing so you can catch something for dinner later!
Visiting us during the colder months is perfectly okay too. There are beachside restaurants and museums between Pacific Beach and Ocean Shores that will keep you busy while still being able to enjoy those stunning views.
The By the Sea Promise
Here at By The Sea, By The Sea Vacation Rentals, we vow to make booking with us simple and exciting. We know that booking a rental property home for your vacation can be unfamiliar territory for some, while others know their way around it. Because we know this, we ensure that each of our properties are up to high quality standards.
We do our absolute best to provide support to our guests when booking.
We are available to assist you every day of the year if you have any questions or concerns before, during or after your visit to our home. We have onsite property management that are available 24/7 for anything concerning that may arise.
Pet Friendly Property
Full Kitchen
Ocean Front Area
Full Beach View
Cooking Wares
Cable TV Basic Channels
High Speed Wireless Internet
Beach
Name: Weary O'Leary Penthouse
Status: Active
Rating:

Type: Condo
Country: United States
State: Washington State
Destination: Ocean Shores
Location: Pacific Beach
Condominiums: Sand Dollar Condos
Setting: Beach Front Area
View: Full Beach View
Internet: Yes
Sq. Ft: 700
Floors: 1
Entrance Floor: 3
Bedrooms: 1
Beds: KTTL
Bunks: No
Baths: 1
Normal Occupancy: 4
Sleeps: 6
Max Occupancy: 7
Parking: 2
Pets: Dogs
Checkin: 05:00 pm or later
Checkout: 11:00 am or earlier
Website: WearyOLeary.com
Manager: Sand Dollar Condos
BED CODES: K=King, Q=Queen, F=Full, T=Twin, C=Futon Couch, M=Mattress, A=Air Mattress, L=Sleeper, S=Sofa, U=Trundle Bed, D=Day Bed
Named after William O'leary, an Irishman who was one of the earliest European settlers in the North Beaches area, our penthouse is just the place to rest, relax, and rewind. Luxury unknown to Weary.
Property
Child Friendly Unit
No Smoking Unit
Pet Friendly Property Unit
Alarm Clock Unit
Forced Air Electric Heating Unit
Lamps Unit
Clam Cleaning Station Building
Minimum Rental Age is 25 Complex
Nightstand Unit
Multiple Car Parking Building
Smoke detector Building
Electric Wall Heaters Unit
Full Kitchen Unit
Ocean Front Area Neighborhood
Telephone & Free Nation Wide LD Unit
Smoke detector(s) Building
Setting
Town Building Building
Water Front Area Neighborhood
Beach Front Area Neighborhood
Suburban Area Unit
View
Full Town View Building
Full Beach View Unit
Kitchen
Icemaker Building
Refrigerator - Freezer Unit
Refrigerator Unit
Oven Unit
Cooking Wares Unit
Glassware Unit
Microwave Oven Unit
Coffeemaker Unit
Bath
Basic Soaps Unit
Cleaning
All Linens Provided Unit
Cleaning at Departure Unit
Convenience
Family Friendly Unit
Free Parking Unit
Post Office Area, 5 Blocks
Coin Operated Clothes Dryers Building
Coin Operated Clothes Washer Building
Pharmacy Area, 10 to 15 Miles
Unreliable Mobile Phone Coverage Unit
Services
Medical Clinic Area, 10 to 15 Miles
Public Library Area, 10 to 15 Miles
Full Service Restaurants Area, 3 Blocks
Coffee Shop Area, 3 Blocks
Shops Area, 3 Blocks
Gift Shops Area, 3 Blocks
Grocery Store Area, 3 Blocks
Convenience Store Area, 2 Blocks
24 Hour Assistance Telephone
ATM Machine Area, 2 Blocks
Entertainment
Attractions Area
Casino Gambling Area, 5 Miles
Family Camp Neighborhood, 2 Blocks
Cable TV Basic Channels Unit
DVD Player Unit
Activity
Hiking Trails Area, 16 to 20 Miles
Beach Combing Area, 2 Blocks
Rental Bikes Area, 2 Miles
Birding Area
Moped Rentals Area, 10 to 15 Miles
Shelling Neighborhood, 1 Block
Business
High Speed Wireless Internet Building
Sports
Motorcyles allowed at Property Complex
Laundromat Area, 10 to 15 Miles
Walking Paths Neighborhood
Golf Courses Area, 10 to 15 Miles
Hiking Area, 16 to 20 Miles
Saltwater Fishing Area, 10 to 15 Miles
Bowling Alley Area, 9 Miles
Surfing Area
Ocean Swimming Area, 3 Blocks
Scooter Rentals Area, 16 to 20 Miles
Attraction
Tavern Area, 3 Blocks
Wildlife Viewing Area
Scenic Driving Area
National Parks Area, 16 to 20 Miles
Sandy Beach Area, 2 Blocks
Festivals Area, 10 to 15 Miles
Museums Area, 1 Mile
Historical Sites Area
Live Music Neighborhood
Public Parks Neighborhood, 2 Blocks
Historical Area Area
Rain Forest Area, 26 to 30 Miles
Nearest
Bar Area, 3 Blocks
Beach Area, 2 Blocks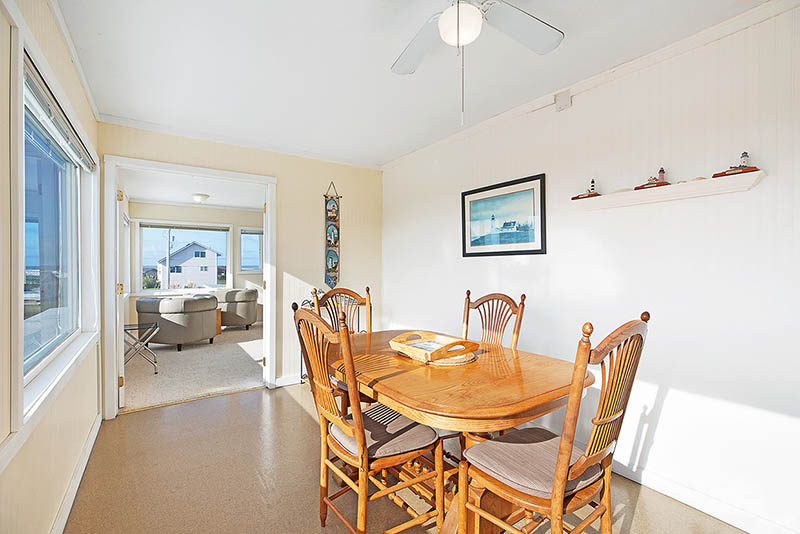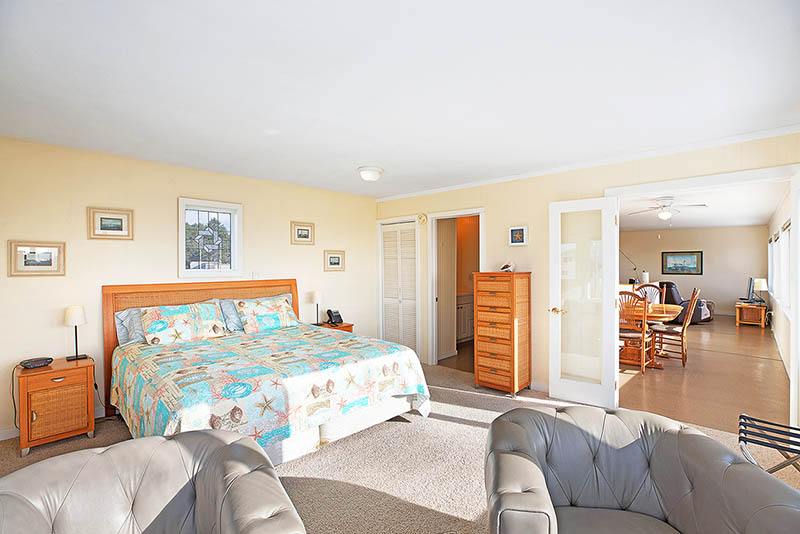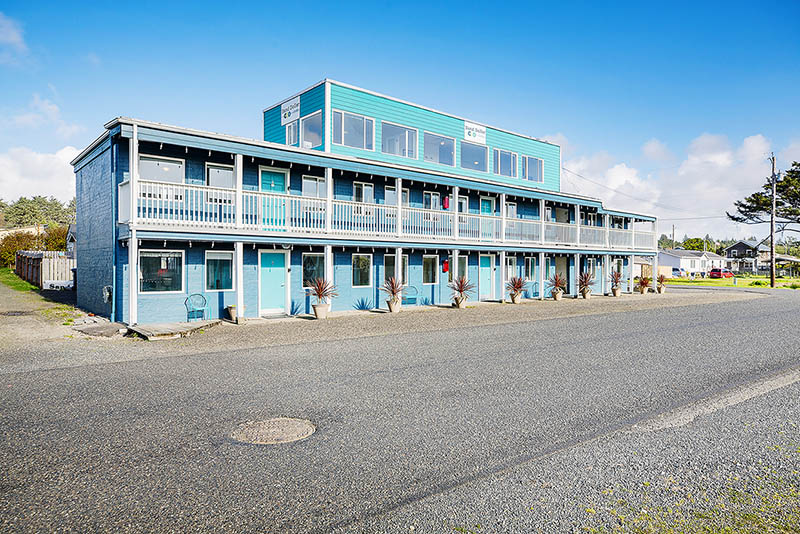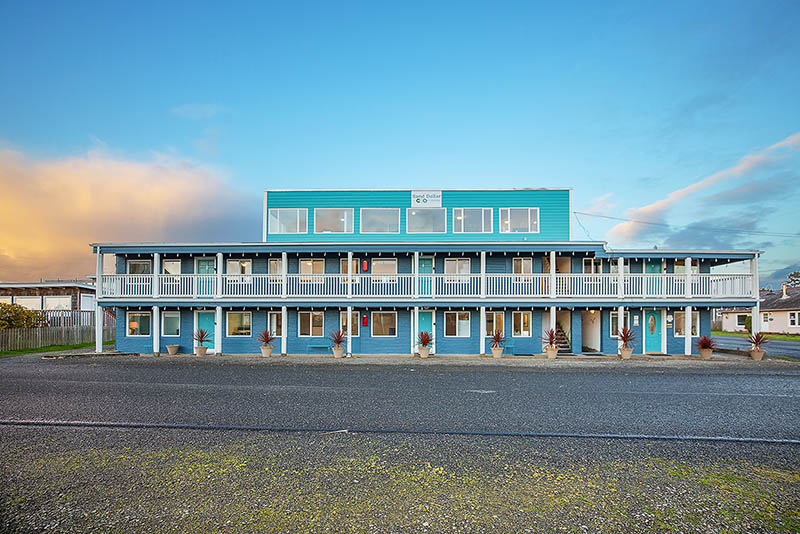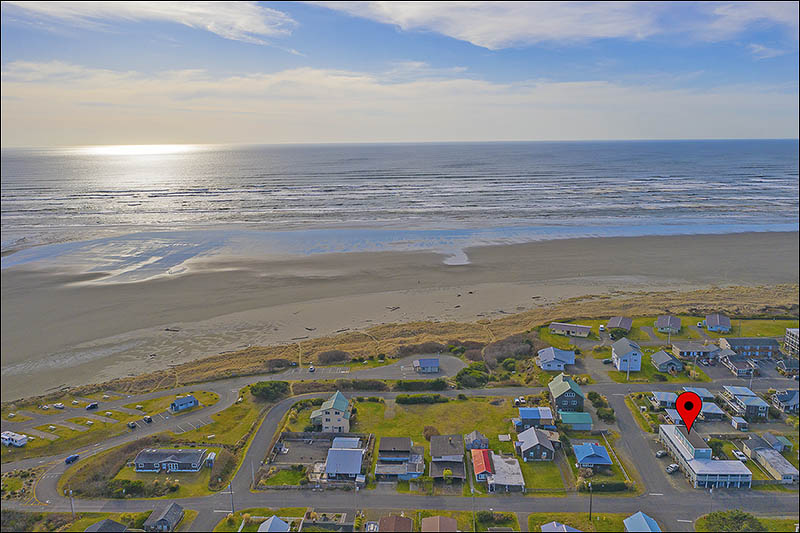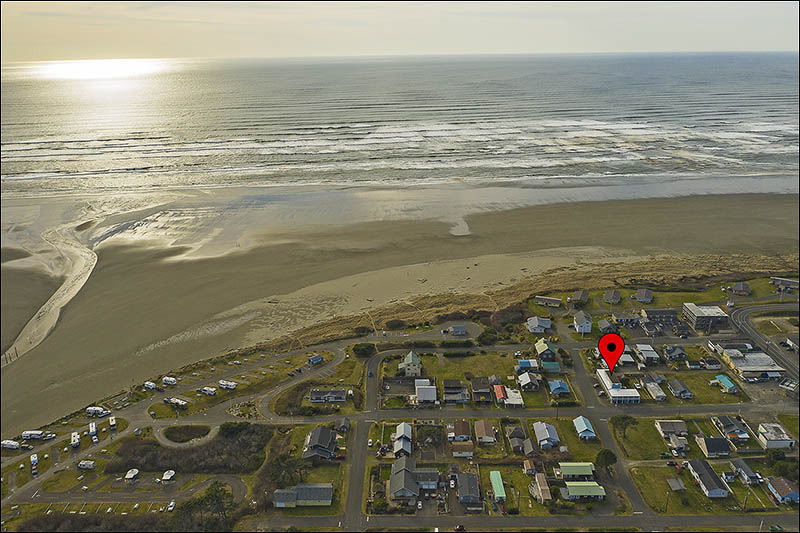 Sand Dollar Penthouse an Amazing Place
The penthouse itself, I stayed there before. And it is an amazing place that has great views. It was very meticulously clean. And I had no problems at all.
Can't wait to come back
One of the best places we have said in Pacific Beach, the views are stunning and so close to the beach.
View of the beach on two sides.
Staff is really nice and rooms are very clean. I stay in the penthouse with a view of the beach on two sides. It's a bit of a track up the stairs and can be a bit warm on sunny days with no breeze. But it is GREAT
Email Manager
Already a member? Click to login
Not a member? Request info below
Say you saw Weary O'Leary Penthouse Condo (1161) on PacificBeachVacationRentals.com